A boost for biodiversity
This tool made out of dead wood is designed to slow down currents in the water and provide a habitat for marine life and recreation at the same time.
The idea for an Underwater Forest consists out of a group of dead trees anchored in the water, which together form a new biotope for underwater life to flourish. The reef that arises forms a boost for marine habitat and can be used as diving destination at the same time. Flora and fauna can nestle on the bark of oak trees and fish can take a rest in the quieter circumstances of the caverns between the trees. When time is passing the Underwater forest will turn into a hotspot for biodiversity.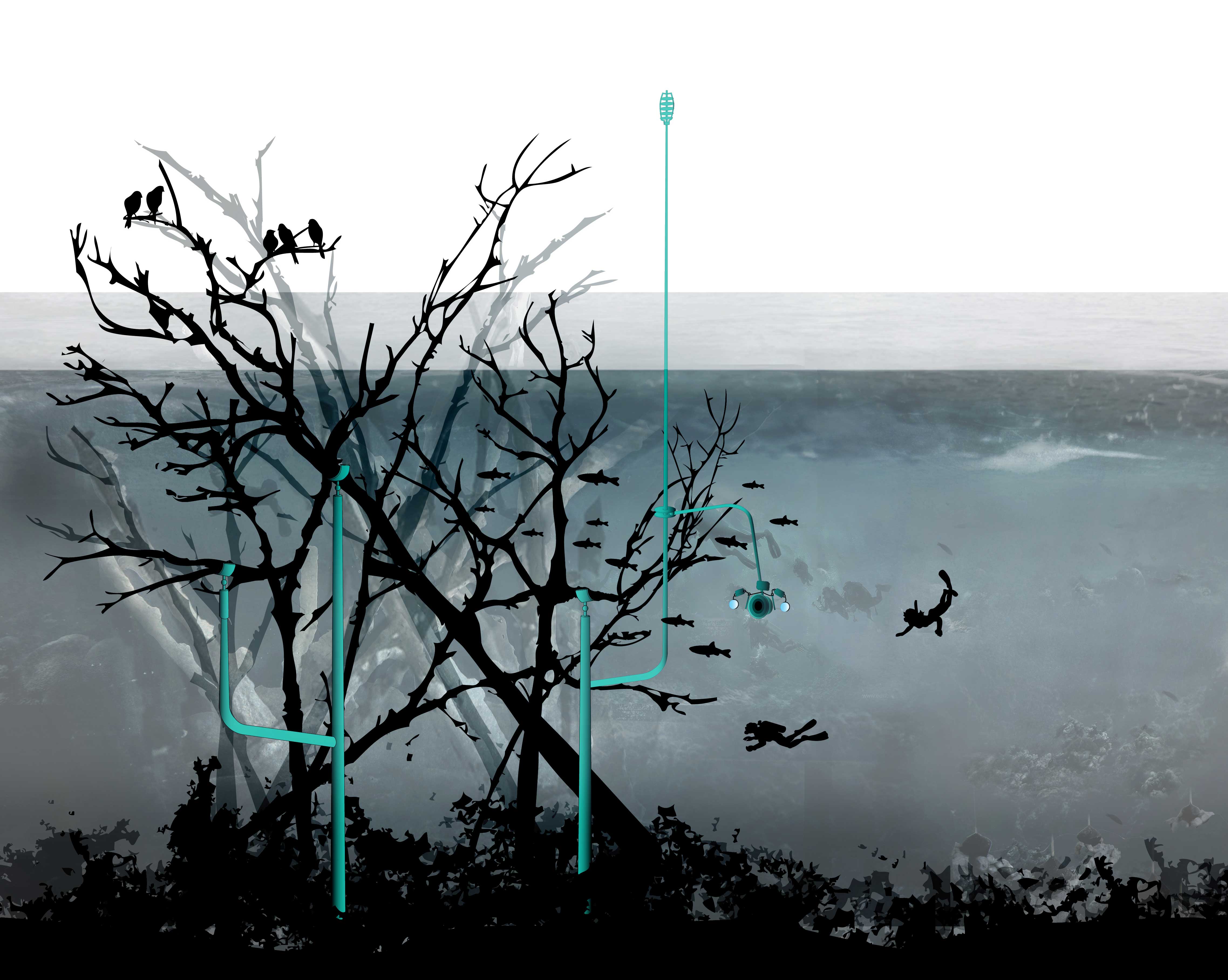 A beacon for the environment
Next to being a boost for biodiversity, the Underwater forest accelerates human exploration. It functions as diving hotspot, and will be adopted for monitoring the Haringvliet ecology after the event of gradually opening upriver dams. This makes it able for fish to migrate from the sea to the rivers once again.
By showing the monitoring material (video and images) at the shoreline, passers-by can also witness the beauties of the underwater life, a big part of the marine ecosystem which is usually not visible to the human eye.
Landscaper nr. 1
The Underwater forest is the first design out of the toolbox of 'landscapers' that will be turned into practice. Winning the NLDelta Challenge provided a budget and support from the organisation to start making this possible.
"Mirte van Laarhoven has won the NLdelta competition because her entry for an Underwater forest was very grounded in the conditions of the delta. Mirte's idea emphasizes the essence of our dynamic delta landschape. With her plan something can be put into motion that will contribute to the long term goals for biodiversity of the NLdelta region and resonates the story, the mysticism and dynamics of our delta at the same time. By this her plan is not a momentary proposal, but a durable and sustainable solution to the diminishing ecology and which can increase human experience as time goes by."
Henk Ovink, jury chairman and Dutch Water Ambassador.